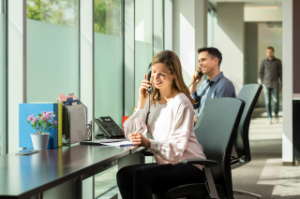 Edge Solutions LLC and their staff have been providing innovative telecommunications solutions since 1996. By partnering with only the top carriers and system integrators we can offer the most reliable products and services to meet the needs of our clients. This level of service has made us one of the fastest growing Telecommunications Consulting organizations in Michigan.
No need to worry about the rapid pace of technology; at Edge Solutions we are in constant contact with our technology partners. We update our staff on the latest innovations and how it can increase productivity, reliability and add value to your bottom line.
Our systems and procedures will ensure that once you approve our recommendations, the experience we provide will exceed your expectations.
The timeline we develop will include installation, programming, and training. That's just the start. We will follow-up on regular intervals to make sure that the services and equipment we provided are performing exactly the way we promised they would.
Edge can also assist with several creative financing plans so that you can take advantage of the latest applications and equipment options without "breaking the bank"
"When you add it all up if you don't give us an opportunity to review your current telecommunications position we both lose."
Mission Statement
Our mission is uncomplicated: make telecommunications an asset for your business, not a problem. Too many times we have seen other IT consulting firms recommend solutions that are not appropriate for the specific client's business or will not take a business' operations into their planning as they routinely bring down an entire business while they perform routine maintenance on a server. That is unacceptable. We won't bring you down in the middle of the day because it is "a better time for us". Edge works around your business.
We strive to make technology integrate seamlessly with your business so your business can grow. As your telecommunications partner, when your business grows ours will grow with you. Therefore, your success is our success. 
Why Edge for Your Telecommunications Needs?
Here are a few points to consider when comparing our offering with "The Other Guys" (Ring Central, Vonage, 8×8, Ooma Office, and Grasshopper). Their companies may be more well known, and there is an advantage to dealing with someone local like us. Here are some important business distinction points:
The Edge on-boarding (Porting) process is far superior. We spend time working directly with you to set up and deploy our services at your location. Edge has dedicated people working directly with your staff and supported by a local team. The team can be onsite with you doing the planning, programming, and training together. Edge will not hurt your business's productivity during transition.
How Edge Bests "The Other Guys"
Our ongoing support is far superior to "The Other Guys" support. We have a very competent and experienced staff who can take immediate action on any requests or troubles. With us, there are no long holds and talking to low-level techs to get transferred to someone who can actually help you. No passing off the blame to someone else.
The blame game – we can groom your LAN for Voice Traffic. The biggest mistake most companies make is just plugging a phone in without considering how that phone will traverse the LAN. When you call support for companies like "The Other Guys" they might simply blame the LAN for your quality issues. We can and will diagnose and fix both issues.
We partner with you to run your office communications and offer much more.
Through our consultative processes we can offer suggestions on how to improve your business processes. We share new products to help you achieve that. Products you may not have considered; Call Recording, Voicemails as transcribed emails, our UC client that does screen sharing with up to four people, Call Center and call queuing and much more.
Edge offers local support and a nationwide network. It boasts supporting 300,000+ endpoints with redundant upstream providers like Verizon and Lumen. Our switches and servers in carrier-grade geo-redundant locations were built with business resiliency in mind.
We offer additional products like SD WAN which is software-defined wide area network. This product will load balance and prioritize voice traffic in and out of your offices so that voice traffic is given priority to the available internet bandwidth you have.
Another item we can talk about was putting together an active disaster recovery plan for your site so that you could continue business operations if you lose your building or connectivity to it for any length of time.
Our offering typically costs less for a total cost of ownership. We definitely win on price in most deals for the regular phone users as well.
Lastly and most importantly no surprises on your first invoice. We quoted taxes and fees as part of our process. There is nothing hidden. The price we quote will be what you are billed.
Edge Advantage
There has never been a better time to evaluate how you are communicating with your Clients. For many years, the premise-based phone cabinet shared space in a closet sometimes next to a sink where the system was vulnerable to water damage. This technology works well in most cases, except and especially in challenging times like what we are facing now.
Hosted technology has become the leader in voice solutions as expected; why own expensive dedicated equipment with licensing fees and on-site service calls driving up your annual office expenses.
At Edge Solutions we understand exactly how business runs and after a brief meeting can customize exactly what suits your company best. You choose from a wide selection of wired and wireless headsets so your staff can work hands free whilst on the phone.
Are you ready to take your business to the Edge? Reach out Today.